At HPS Advanced Dental Care, we strive to provide the most pleasant and enjoyable experience for our patients. Our experienced team of hygienists, dental assistants and front office team members work together to ensure your dental visit is like no other experience you've ever had! We use the latest technology to create and maintain beautiful smiles in a friendly and comfortable environment.
---
---
Suzy

Dental Hygienist
I grew up in Royal Oak and just north of Rochester. I went to Delta College in University Center Michigan. I started working with Dr, Heather when she bought the practice and it became HPS Advanced Dental Care.
I love my patients and their families and watching them grow up and hearing their stories. HPS is a fun family practice and our patients feel like part of our family. We love to work hard and have fun doing it.
In my spare time, I enjoy spending time up in northern Michigan boating, snowmobiling and snowshoeing.
Something fun to ask me the next time you are in the office is; Where is my favorite place?
---

Samantha Enos

Dental Hygienist
I am Samantha, a registered Dental Hygienist at HPS Advanced Dental Care. I had the privilege of joining the team in June of 2019. I graduated from Baker College of Clinton Township in May of 2019 and received my Associates of Applied Science in Dental Hygiene. I am also certified in local anesthesia and nitrous administration to help achieve the comfort of my patients. I treat my patients like family and I strive to do my best to ensure their dental needs are met. My most important contributions to this team are my ability to help patients remain at ease, my personable and hard-working character, and my time management. Here at HPS, we believe in a relaxed and comfortable environment for all of our patients.
I have lived in Shelby Township for 23 years, where I currently still reside. When I am not at work I devote my free time to my fur baby, my dog Kailua. My family and friends mean a lot to me and consume a lot of my time as well. I dream to be in the sun and on the water 24/7 where I am at my all-time happiness. Something to ask me about when you come to see us is my favorite vacation spot!
---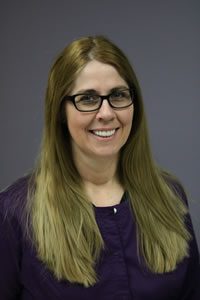 Karen
Dental Assistant
My name is Karen, I am a dental assistant at HPS Advanced Dental Care. I grew up in Macomb Township and completed my post-secondary education at Macomb Community College and Detroit Mercy Radiology.
I enjoy working at HPS Advanced Dental Care because I love to make people smile.
When I am not at work, I enjoy spending time with my husband and 2 children and with the rest of my family up north.
---

Erin

Front Desk Coordinator
My name is Erin. I grew up in Royal Oak. I attended Kimball High School and went on to the applied science program at Oakland Community College where I received my EMT-B license. I chose to work here at HPS Advanced Dental Care because of how wonderful the staff is and everyone is so supportive and encouraging to one another. I want to part of that type of environment. I love stand up paddle boarding, kayaking, scuba diving, hiking and camping with my husband & adventure buddy. I also spend a lot of time with my camera, or painting, baking, knitting, or crocheting. I have a lot of hobbies. Next time you are in the office ask me about my latest adventure!
---
---