At HPS Advanced Dental Care, we strive to provide the most pleasant and enjoyable experience for our patients.  Our experienced team of hygienists, dental assistants and front office team members work together to ensure your dental visit is like no other experience you've ever had!  We use the latest technology to create and maintain beautiful smiles in a friendly and comfortable environment.
---
Samantha Enos

Dental Hygienist

I am Samantha, a registered Dental Hygienist at HPS Advanced Dental Care. I had the privilege of joining the team in June of 2019. I graduated from Baker College of Clinton Township in May of 2019 and received my Associates of Applied Science in Dental Hygiene. I am also certified in local anesthesia and nitrous administration to help achieve the comfort of my patients. I treat my patients like family and I strive to do my best to ensure their dental needs are met. My most important contributions to this team are my ability to help patients remain at ease, my personable and hard-working character, and my time management. Here at HPS, we believe in a relaxed and comfortable environment for all of our patients.
I have lived in Shelby Township for 23 years, where I currently still reside. When I am not at work I devote my free time to my fur baby, my dog Kailua. My family and friends mean a lot to me and consume a lot of my time as well. I dream to be in the sun and on the water 24/7 where I am at my all-time happiness. Something to ask me about when you come to see us is my favorite vacation spot!
---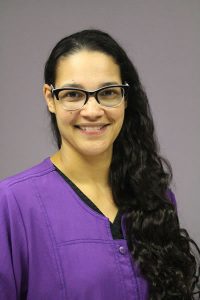 Germaine RDH

Dental Hygienist
I graduated from Baker College in 2001 and went right into Periodontics.  That has been my passion my entire career.  I work at HPS Advance Dental because of our holistic approach for individual patient care.
I enjoy being outside gardening and spending time with my family.
Something fun to ask me about when you are here is:  Do I have any pets?
---
Victoria

Receptionist/Marketing Partner

My name is Victoria Plichta, I am a Receptionist/Marketing Partner here at HPS Advanced Dental Care. My role here involves checking patients in/out, answering phones, and bringing new patients into our office. I manage our Instagram, Facebook page, and will be reaching out to elementary schools to educate children on the importance of going to the Dentist. Our friendly staff at HPS is my family away from home, and as a team we strive to influence our positive and uplifting attitudes with our patients the very second they walk in our door or call us.
I have lived in Michigan my entire life, and had the pleasure of growing up in Rochester Hills, MI. I currently still reside with parents, younger brother, older sister, as well as Gunner, my golden doodle. I love outdoor activities, such as going to the park, beach, mountain biking, walks with gunner, and washing my car. I also love thrift shopping and know some of the best thrift shops in all of Oakland and Macomb Counties. I value family, health, exercise and working at HPS.
I am also an artist and do Acrylic and oil paintings of landscapes, and will hopefully soon be displaying these at my favorite local coffee shop in Downtown Rochester. This past year I got the pleasure to stay in Australia, and New Zealand for a few months with my Aunt, Uncle and little cousins. This is by far one of the most beautiful places to me in the world, and hope to go back soon.
---
Kelly Becks
Marketing Manager

HPS Advanced Dental Care is a very special place. I have seen first hand how passionate about dentistry our team is and how lives have been changed by being a part of HPS. Working at HPS allows me the opportunity to be part of an amazing team and help change lives with dentistry.
I have three amazing children, two very active sons, and one beautiful daughter. My hobbies include spending a lot of my time watching my children play sports and working in the yard. We love to vacation back home in Kenora with our family spending time on the water.
Something to ask me when the next time you are at HPS: I was recruited at the age of 17 to move to Thunder Bay Ontario to play a sport. What sport did I play?
From: Kenora, Canada / Rochester Hills, MI
Education: University of Manitoba, Ashford University, MBA
---