Managing and Preventing Bruxism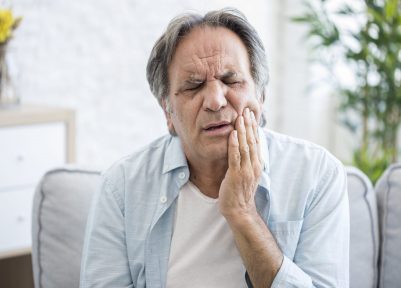 If you usually wake up experiencing sore teeth, headaches, or neck pain, there is the likelihood that you could be suffering from bruxism, also referred to as grinding of the teeth during sleep. Today in this post, we want to discuss this highly prevalent women's health issue, how to identify it as well as how to manage teeth grinding. So, peruse the article and enhance your knowledge.
According to research, at least 50% of women experience a strange nighttime habit that involves gnashing, clenching, or grinding their teeth while sleeping. And out of this figure, 10% of these women experience serious problems caused by the nightly grind.
So, how do you know if you have this particular condition?
Just take your finger or thumb and gently rub it along the edges of your lower and upper front teeth:
Do feel any chips along the edges?
Can you feel any fractures?
Now look yourself in the mirror and carefully examine everything.
Can you spot any sharp ends?
Are they either worn down or flat?
After this, you need to ask yourself a few questions, including:
Do you always experience a mild morning neck ache or migraine?
Do your pearly whites feel sore every time you wake up in the morning?
Do you ever experience ringing in your ears?
Do you ever experience an ache in your jaw at the point where you open and shut your mouth?
If you didn't know, that's your TMJ (temporomandibular joint), which enables your mandible, or simply your jaw, to smoothly hinge up or down. And it can be very painful after a night of teeth clenching and grinding. It has also been shown that most patients don't know whether they are teeth grinding while asleep.
So, what triggers bruxism?
A hard grind:
When clenching and grinding your teeth while asleep, you usually exert an enormous amount of pressure on them. This force or pressure nearly equates to hundreds of pounds, and numerous times more than you would withstand if you were grinding your teeth during the day.
And the extent of damage it can cause ranges from minor to significant damage. Some individuals usually clench their teeth while sleeping, but may still move their jaws from one side to another, or even from front to back, and eventually wear those teeth down. And the teeth will ultimately become flat and unattractive!
The back teeth will begin to hit against each other whereas the front ones will tend to shrink. And this implies that your teeth will become somewhat shorter, become loose, and also chip quite easily. And this is how you will lose your once-gorgeous and youthful smile!
And as already explained, it's not just your teeth that suffer from bruxism, but your jaw joint as well. The ligaments in your TMJ are likely to get damaged due to inflammation of the adjacent areas. When this occurs, you will experience excruciating pain! It's also worth noting that you may also experience earaches because of the huge amount of force put upon this fragile region.
The distance between your inner ear and TMJ is relatively short, implying that if this region becomes inflamed and painful, your inner ear will likely experience some pain as well. In fact, some throat, ear, nose experts and dentists opine that teeth clenching can potentially result in ringing in the ears, a condition commonly referred to as tinnitus.
In extreme scenarios, bruxism can lead to significant damage to the whole TMJ area. This condition is known as temporomandibular joint dysfunction or TMD.
An unknown condition:
So what explains why we usually clench and grind our teeth?
No one knows why people grind their teeth. However, some established dentists have provided several possible reasons behind teeth clenching, including major stress, inappropriately aligned teeth, or as a result of a habit formed over many years.
To some extent, there is something fulfilling about the condition. In fact, pedodontists have indicated that many children aged six usually grind their baby teeth. So perhaps a few grownups held on to teeth clenching from their childhood? Regardless of the reason, you should seek medical assistance if you are an avid teeth grinder!
How to quit bruxism?
When it comes to preventing teeth grinding, the basic rule of thumb is to learn how to tighten your lips together and ensure your teeth are apart! This is the ultimate posture for ensuring your jaw remains in a relaxed position. When you shut your mouth, both your teeth in the upper and lower jaw should be apart and the tongue a little forward between them. It prevents teeth clenching in the daytime, and with a bit of luck, will potentially get rid of the habit even as you sleep. It's imperative to note that this is an important habit that everyone should embrace, whether you are a teeth grinder or not!
However, you may still need to seek professional assistance. And bearing in mind that there are numerous bruxism treatment methods, due diligence should guide you toward choosing the most appropriate type of treatment. As a general rule, choose your treatment depending on the severity of your symptoms.
For instance, if yours are just a few slightly chipped front teeth, you may not need a CT scan of your TMJ, a procedure often conducted to exclude severe cases.
Popular teeth grinding treatment options:
In most scenarios, your healthcare provider will suggest a custom-fitted dental night guard; a tough, plastic device that fits over your upper teeth. This device usually features a fairly smooth surface at the back, to help eliminate any surfaces to clench on.
In rare cases, your dentist may recommend a unique mouthguard that only allows your front teeth to come into contact with each other, with your back teeth separated. In extreme situations, he may use two independent devices for both your lower and upper teeth.
The device will usually mimic your teeth, but dental night guards are constructed in a lab. This means that they will always fit snugly and are usually durable enough to last at least two or four years. This device will prevent your teeth from wearing down. What's more., an expertly designed dental night guard will reprogram muscles as well as pathways, stopping you from grinding and clenching on the plastic surface!
However, if your symptoms are more severe, your doctor will most likely recommend a soft diet for some time. What's more, he/she may instruct you to apply either heat or cold pack on your jaw. And while some may use a TENS equipment; an electrical stimulus device on your facial muscles, you should note that this technique is not only highly contentious, but unproven as well.
Other treatment options may include:
Botox injection: This is aimed at weakening your chewing muscles to reduce their clenching strength. However, this option is not only fairly costly, but also lacks any concrete clinical evidence behind it.
Medications such as anti-inflammatories, pain killers, sleeping pills as well as muscle relaxants.
Tooth enamel reshaping, which can be a very tricky operation to conduct.
A major dental operation to help iron out your bite! This may involve dental crowns in the back teeth, or veneers or porcelain crowns that conceal the visible half of your teeth in the front teeth to restore your original smile. But this can be an expensive option!
Home remedies for bruxism:
Take part in routine physical activity, such as aerobic exercise.
Reduce your alcohol consumption.
Eat a highly nutritious, low-calorie diet.
Quit smoking if you are an ardent smoker.
Stay away from recreational drugs.
Surround yourself with caring, loving friends.
The Bottom line:
If you are currently suffering from bruxism, you need to act fast and seek professional assistance. Depending on the severity of your symptoms, there are numerous treatment techniques out there that can help curb this health problem, allowing you to have a healthy and fulfilling life.
If you are looking for a dentist, HPS Advanced Dental Care would love to see you.  Dr. Heather is gladly accepting new patients.
We are located at 4741 24 Mile Rd. Shelby Township, MI 48316, and we can be reached at  (248) 652-0024.  We look forward to meeting you!