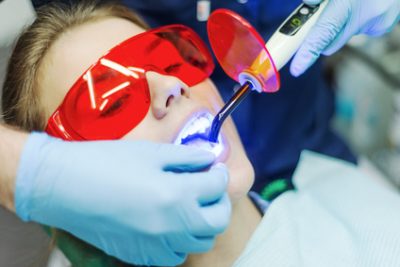 Recently a surge in new dental technology has overtaken many traditional dental procedures. Among them is the use of lasers, which have become the primary tool and procedure in soft tissue shaping and removal. Best of all, lasers are often completely painless. Keep reading to learn 3 main benefits of soft tissue lasers.
Less Pain and Speedy Recovery
Since the FDA approval of lasers for safe public use in 1990, many dentists have incorporated these methods for superior results in everyday procedures. These lasers help to reduce nervousness, bleeding, and recovery times post-treatment. Dental lasers are extremely popular because they eliminate most of the damage to the tissue being worked on, saving the patient discomfort and pain.
When lasers are used, the tissue is able to regenerate and heal the mouth quicker than traditional procedures. The painless nature of it reduces the need for anesthesia and the precision allows for a less of a dependence on stitches.
Soft Tissue Lasers are Versatile
Dental lasers are also incredibly versatile and can be used for a variety of common procedures. The use of lasers eliminates the need for costly, painful, and sometimes dangerous methods involving drilling and anesthesia. The lasers can be used to safely eliminate extra gums that are preventing a patient's complete smile from showing; they can even be used to speed up teeth whitening! Finally, they can be used to remove benign tumors with little to no pain.
Elimination of Bacteria and Periodontal Disease
There is another convincing benefit to dental laser use – it eliminates unwanted bacteria. Periodontal disease is an ongoing problem and oftentimes people don't even know they have it until it's in advanced stages. Inflamed gums and periodontal disease increases an individual's risk for serious health concerns such as heart attack, stroke, and kidney failure.
Laser bacterial removal allows dentists to eliminate pockets of periodontal disease-causing bacteria without having to use traditional painful procedures as lasers cause minimal tissue damage, bleeding, and swelling. Eliminating bacteria in the mouth will prevent it from entering a patient's bloodstream, which could be extremely harmful to an individual. The eradication of these bacteria will lead to better health and a better overall immune system. Also, removing the bacteria with a soft tissue laser is considered more of a holistic approach than conventional antibiotic treatments.
Several dental patients that are thirty years of age and above have periodontal disease in one form or another. If you experience symptoms such as bleeding gums, loose teeth, persistent bad breath, receding gums, or even just discomfort and tenderness, you could be at risk. Be sure to contact your dentist and schedule an exam. A soft tissue laser may just be the best treatment option.
Contact a Shelby Twp Dentist for Soft Tissue Laser Treatments
HPS Advanced Dental Care is located in Shelby Twp, MI and performs a variety of dental procedures with the soft tissue laser.
If you show any symptoms of periodontal disease or need any of the various services offered by a soft tissue laser, contact HPS Advanced Dental today at (248) 652-0024.