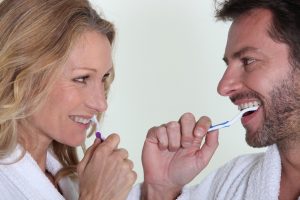 Making significant improvements in your oral hygiene is one great way to boost your overall health. And while there are many ways to enhance your oral health, one area experts suggest you focus on is your bedtime oral hygiene routine. During bedtime, bacteria tend to gather in your mouth, and many things can occur during this period. But as always, you should never allow the thought of cavities and plaque forming in your mouth to keep you from having a fulfilling night's rest. Below are practical, effective, and proven tips on how to maintain your oral health even as you sleep.
Always brush before you retire to bed: There are numerous reasons why you should brush your teeth before going to bed. Brushing not only helps prevent gum disease but also helps fight plaque as well as tooth decay. If you are an individual whose teeth are sensitive to disease and cavities, it is highly recommended that you brush your teeth right after dinner and immediately before you sleep.
Use mouthwash: A mouth is a highly versatile product that not only guarantees a cool and refreshing breath but also tends to strengthen your teeth and boost your overall oral health. Rinsing and gaggling with top-notch mouthwash is a great way to keep both cavities and dental diseases at bay. The most interesting thing is that a number of high-quality mouthwashes are generally used for an aromatic and minty breath while offering very little for your oral health. Before you invest in a certain mouthwash, talk to your dentist to help you choose the best product possible.
Take advantage of dental floss: Routinely brushing is good for your health. But just brushing is not enough, so you also need to floss. Dental floss is a fantastic way to effectively remove and cleanse all the food particles in your teeth before they harden. As you may already know, when food debris is not removed from your teeth on time, it will ultimately attract bacteria, leading to the formation of cavities. What's more, if the plaque is not removed, it will eventually harden and change into a tarter. And it is worth noting that getting rid of tartar is usually a tedious task that only needs the intervention of a qualified dentist. While it is recommended that you floss right before you go to bed, those who are prone to tartar and plaque are encouraged to floss in the morning as well.
Take advantage of an electric brush: If you want to effectively cleanse and remove tartar, look for an electric toothbrush. The swinging, as well as vibrations of an electric brush, clean your teeth in a better way compared to a regular toothbrush. As a buying guide, always go for a toothbrush that features a rotating and oscillating head and is also easy to hold.
Thorough brushing: Simply brushing your teeth is not enough when it comes to improving and maintaining your oral health. Besides everything else, you also need to know how to apply the most effective form of brushing. Doctors often recommend employing a rather slow back and forth movement as you brush your teeth. What's more, you should first brush the outermost parts of your teeth before you clean the inside parts. To effectively clean the back parts of your front teeth, you can use the tip of your toothbrush.
These practical and proven tips should help keep your dental health in tip-top condition. But most importantly, don't forget to schedule an appointment with your dentist at least once or twice a year!
If you are looking for a dentist, HPS Advanced Dental Care would love to see you.  Dr. Heather is gladly accepting new patients.
We are located at 4741 24 Mile Rd. Shelby Township, MI 48316, and we can be reached at  (248) 652-0024.  We look forward to meeting you!