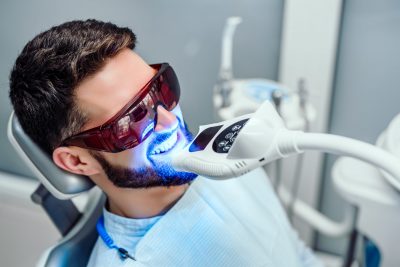 A gorgeous smile can light up a space and completely alter the way you feel about yourself. When you are not confident about your teeth, this can impact all areas of your life. Thankfully, professional teeth whitening can be a great option for individuals who crave pearly whites!
If you are currently considering seeking professional tooth whitening services, you may be aware of some of the potential benefits associated with it. But are you aware of everything of all the benefits you'll enjoy from the procedure?
To help enhance your awareness, we have put together a list of the ten benefits of professional teeth whitening.
Professional teeth whitening is pretty fast: When teeth whitening is done by professionals, it only takes one session for you to experience the desired results. And this can be great for those looking to attend some upcoming event and thus need fast results. As compared to teeth whitening products offered online, professional teeth whitening delivers much faster results.
It's safe for your overall health: A professional teeth whitener not only knows how to conduct the procedure but also uses high-quality products that will only enhance your whitening results. What's more, they are able to monitor your progress every step of the way. They will immediately intervene in case you experience issues such as intense sensitivity or any other type of discomfort. And bearing in mind that some form of discoloration may not respond to whitening procedures, a professional will have an open discussion with you regarding this possibility. And this will not only help you to save money on hypothetical results that won't materialize but will also protect your teeth against potential damage caused by extensive whitening.
Thorough whitening: The whitening products available online tend to be one-size-fits-all. But we all know that our mouths are very different. What's more, the potency of the whitening gel isn't adjustable, implying that the results may not be good for everyone. The results are highly likely to be unbalanced, with some teeth looking perfectly white whereas others may still harbor stains. But with a professional teeth whitener at your disposal, you are guaranteed to experience perfect results.
Comfortable whitening sessions: A professional Shelby, TWP, MI tooth whitener will make sure that no whitening agent finds its way into your gums. In case you didn't know, leaving whitening gel on your teeth for an extended period could potentially result in damage to the enamel. And can easily occur if you opt for DIY whitening kits. Gel on your gums can cause tooth sensitivity. So, if you usually experience tooth sensitivity, your doctor will likely adjust how long the gel stays on your teeth. On most occasions, your dentist will recommend a product that's ideal for your dental needs.
Bespoke treatments: It is worth noting that trays that don't properly fit the mouth are among the major causes of uneven whitening as well as increased sensitivity in the gums and teeth. However, with professional procedures, highly customized trays can be designed to fit your mouth like a glove. They'll prevent your gums and lips from coming in close contact with the gel. Simply put, a professional tooth whitener has the needed expertise to offer you the exact amount of whiteness you need and in locations that most require it.
You are in complete control: You own your smile and this is why you should have complete control over the level of whiteness you want. But with over-the-counter treatment options, you don't have any control over how much whiter your pearly whites can get. Working with a professional allows you to discuss the level of whiteness you are looking for, and your dentist will inform you whether your demands are realistic or not.
Have your queries answered by the experts: Whitening your teeth is usually a straightforward process that can deliver incredible results. But this doesn't entirely imply that you won't have one or two questions for the dentist. Your dentist will be prepared to discuss everything you need to know about the procedure. For instance, it may be vital to have your teeth cleaned professionally before going for a whitening procedure. Your dentist will assess the condition of your teeth and hopefully identify any underlying issues that may affect the effectiveness of the whitening procedure. In some instances, darker teeth can be a sign of either root canal issues or tooth decay.
Long-lasting results: Professional whitening treatment inevitably delivers long-lasting results. On the other hand, over-the-counter whitening kits usually involve routine applications over a period of time to deliver the desired results. After your professional treatment, your dentist will offer you a home maintenance kit to help you maintain your teeth's white color at all times.
A confident smile: Professional teeth whitening guarantees unrivaled results that will not only enhance your beauty but will significantly boost your smile as well. This will increase your social circle, bearing in mind you'll be able to attend events with lots of confidence.
Strong and detailed whitening: Dentists always use whitening gels that feature professional strength. They usually feature a peroxide intensity that is far much greater than the ones found over-the-counter. And this simply implies that a professional whitening procedure will effectively eliminate stubborn stains. Professional teeth whitening treatments are very thorough, and gaps between sessions can range from one to a couple of years, saving you significant money in the end.
Don't wait any longer! Seek professional teeth whitening to help boost your beauty, smile, and confidence. Give us a call today and let us give you the best teeth whitening treatment.
If you are looking for a dentist, HPS Advanced Dental Care would love to see you.  Dr. Heather is gladly accepting new patients.
We are located at 4741 24 Mile Rd. Shelby Township, MI 48316, and we can be reached at  (248) 652-0024.  We look forward to meeting you!