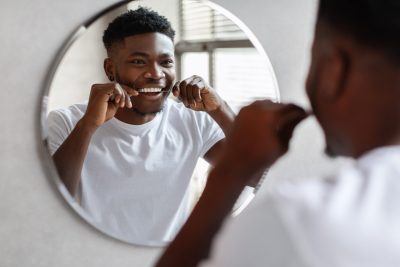 When it comes to home-based oral habits, not many people consider flossing as an essential dental care practice. In fact, more than 37% of Americans don't floss daily.
It is very unfortunate that flossing isn't taken as seriously as it should be. Most dentists would recommend that you floss daily besides brushing twice daily. Below are a few proven benefits of routine flossing from your local Shelby TWP, MI dentists:
Unmatched comfort: Remember, your aim is not to please your Shelby, TWP, MI dentist by flossing! You have personal and somewhat selfish reasons to floss, and comfort is one major reason why regular flossing is a must. Nearly everyone has had food sticking in their mouth, and it's usually an unpleasant experience. Thankfully, flossing substantially minimizes the amount of time these food particles stay between your teeth. And while you are strongly advised to floss at least once daily, there is no offense in doing it more. Always make sure you have toothpicks, floss picks around you, whether in your pocket, car, or backpack.
Enhances the effectiveness of your brushing: As you already know, brushing alone is not enough for your regular dental care simply because it won't access between your teeth. Food particles will always get stuck in between your pearly whites. And if that food features some acid or sugar, the chances are only high that it will wreak havoc on your teeth. What's more, it will attract bacteria, ultimately resulting in cavity issues. It is recommended that you floss first before brushing your teeth. On most occasions, the food that is stuck in your teeth will poke out, blocking your toothbrush from accessing the harder-to-access areas. And with time, these spots will eventually decay, warranting more extensive dental procedures in the future. After removing food particles from your teeth, you should gargle some mouthwash to help access the areas you may have missed.
Money-saving experience: If follow the most expensive route and purchase a pack of floss picks monthly for $5 at your local pharmacy, this will amount to a whopping $60 per year. Of course, this means you are flossing regularly after each meal. However, if you fail to honor your flossing routine, food particles, sugar, bacteria as well as other debris will get stuck between your teeth daily. Unfortunately, in the end, you'll end up with 32 cavities that require filling, if you are lucky that is! It is worth noting that dental implants and root canals are a lot pricier, more painful, and invasive as well. So, to be on the safest side, just be a bit extravagant and purchase a pack of floss for a few dollars. Brushing, flossing, and mouthwash as well as regular dental exams can all go a long way toward saving you lots of money in dental procedures.
Offers unmatched gum protection: Gums play a crucial role in your teeth's overall health. Gum infections such as gingivitis and other diseases can be tough to deal with. Routine flossing is not only good for your pearly whites, but is also crucial for the health of your gums.
It's vital to your overall health: Even though exercise and proper diet get all the attention, dental health equally plays a significant role in your overall health. After all, everything you consume travels into your body via your mouth. This means that if there are huge amounts of bacteria in your mouth, it will inevitably result in other health problems. It can have a direct impact on vital organs such as your brain and heart. Oral hygiene plays a crucial role in minimizing your risk of cardiovascular diseases and neurological disorders such as Alzheimer's disease. Protect your brain and heart health by flossing more regularly.
It's straightforward: The most important benefit of regular flossing is that it only takes a few minutes to accomplish and you enjoy all the aforementioned benefits. However, this doesn't necessarily imply that you should compromise the recommended flossing technique. You must floss properly to not only prevent any potential issues, but to ensure you are getting the best out of your flossing efforts.
Schedule an appointment with your local Shelby, TWP, MI:
Besides your regular flossing, brushing, and mouthwash routine, consistent visits to your favorite Shelby, TWP dentist is your ultimate defense against a number of medical problems. Don't wait any longer! Contact us today and let us enhance your smile. We are located at 4741 24 Mile Rd. Shelby Township, MI 48316, and we can be reached at  (248) 652-0024.  We look forward to meeting you!