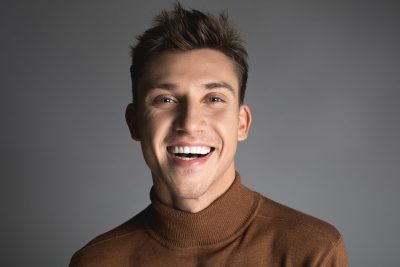 When done by a professional, teeth whitening can guarantee numerous potential results. Continue your reading and learn about the ten proven benefits of having professional teeth whitening.
A gorgeous smile can really light up a space and not only change the way you feel about yourself but how others feel about you as well. When you have stained teeth, you won't feel confident about yourself and this can potentially impact all areas of your life. Fortunately, professional teeth whitening can be a great option for anyone looking to enhance their smile.
If you are not sure whether professional teeth whitening is right for you, below we explain ten reasons why professional teeth whitening remains the fastest, safest and the most effective solution for a brighter and more confident smile:
It's the safest option:
A professional is not only equipped with the right equipment but also has the relevant knowledge and experience to deliver the best results possible. Some stains can be very stubborn, failing to respond to even some of the most robust whitening treatments. Thankfully, a proven expert can talk you through this, ensuring that you don't continue to waste your time as well as hard-earned bucks on something that won't work, eventually.
Robust and thorough teeth whitening:
The teeth whitening gels boast unrivaled strength. They usually feature a peroxide intensity that is numerous times higher compared to those available at your local pharmacy. Simply put, a teeth whitening expert will easily remove any tough discoloration that an in-store kit won't be able to handle. What's more, expert whitening treatments are very thorough, implying that gaps between your treatments can range from twelve months to a few years. This not only ensures supreme whitening results but also saves you lots of cash in the long run.
Highly comfortable sessions:
Unlike DIY kits that can be quite tough to use, a professional will ensure that the whitening gels don't find their way into your gums. In case you didn't know, whitening gels can potentially cause damage to your teeth when left to stay on them for extended periods. And you could easily damage your teeth if you choose to use a DIY teeth whitening kit. Gels can easily cause tooth sensitivity if not used appropriately. If you are someone who regularly experiences tooth sensitivity, your dentist will regulate the amount of time the bleaching agent is left to act on your pearly whites. And most importantly, your dentist will provide you with proven tips on how to take care of your teeth to help minimize their sensitivity.
Bespoke Treatments:
Research has shown that the most common cause of tooth sensitivity and uneven teeth whitening are trays that don't fit the mouth appropriately. Thankfully, tooth whitening professionals usually design customized trays that fit your mouth perfectly well. And these can always be taken away for at-home top-up treatments. They offer excellent protection for your lips against the bleaching agent. Thanks to their unrivaled experience, a professional tooth whitener knows the exact level of whiteness needed to eliminate even the toughest stains.
A complete teeth whitening session:
The tooth whitening kits are usually not versatile enough. However, we all have different mouths and teeth. Unfortunately, the whitening gels' strength isn't always adjustable, and this means that they may be effective for one person but not for the other. The gels will therefore deliver unequal results, with some teeth looking extremely white whereas others remaining discolored. However, with a professional tooth whitener at your disposal, you will inevitably experience great results that leave you with the most beautiful smile ever!
Prompt results:
With professional teeth whitening, you can have the desired results in just one visit! And this can be great for those looking for the perfect results in a short period. On the contrary, over-the-counter teeth whitening agents are not only somewhat less effective but may take weeks or even months to yield notable results!
Long-lasting results:
Over-the-counter whitening kits may not only fail to offer the desired results, but you'll also have to undergo numerous treatment sessions for them to work! This can be a daunting and costly task. On the other hand, professional whitening guarantees lasting results because it is conducted by experienced and knowledgeable people. What's more, your dentist may provide you with a maintenance kit to ensure your teeth will never lose their spark!
A chance to have a confident smile:
We all know that your teeth are usually the first thing people see when they gaze at you! Professional teeth whitening will remove all sorts of stains from your teeth, leaving them sparkling white. A new, beautiful smile can significantly transform your appearance, giving you the confidence you need to boost your social life! When you whiten your pearly whites, you are not only transforming your lifestyle, enhancing your appearance, but you are boosting your confidence as well.
A chance to talk to the professionals:
And while teeth whitening is usually a straightforward procedure, it gives you a great opportunity to interact with your dentist and maybe ask a few questions regarding how the whole process works. What's more, your dentist will also have a chance to examine your teeth and spot any hidden issues. For instance, darker teeth can sometimes signify root canal or significant tooth decay. Depending on the outcome of your doctor's examination, he can recommend the best treatment option to help rectify the identified problems.
You are in complete control:
With over-the-counter teeth whitening products, you don't have control regarding the level of whiteness you would want your teeth to achieve. But with an expert at your disposal, you can always suggest the kind of result you want and your dentist will be able to advise you accordingly. Your dentist will always do whatever it takes to deliver safe and effective results that match your expectations.
If you are looking for a dentist, HPS Advanced Dental Care would love to see you.  Dr. Heather is gladly accepting new patients.
We are located at 4741 24 Mile Rd. Shelby Township, MI 48316, and we can be reached at  (248) 652-0024.  We look forward to meeting you!