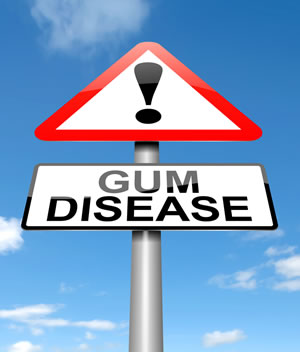 Periodontal disease is pretty scary sounding. And for some of our Shelby Township area dental patients, it can be. If we have diagnosed you with periodontal disease, you are not alone. Many adults and teens in the U.S. suffer from some form of periodontal disease. Periodontal disease is a perfectly treatable and preventable condition that many of our patients know little about. If you've been told you are suffering from periodontal disease, here is the basic information about this common dental condition.
What is Periodontal Disease?
Periodontal disease is essentially a condition caused by the build-up of bacteria and plaque on your teeth. This build-up of bacteria and plaque or "tartar" can irritate your gums and cause swelling and bleeding. In extreme cases, this irritation can get under the gums and cause damage to the roots of your teeth and in the worst case, can damage your jaw bones. Periodontal disease is most often seen in adults, and more often men than women. However, teenagers can develop mild cases of periodontal disease during puberty when their hormones are changing.
Other Factors that Contribute to Periodontal Disease
While bacteria and plaque build-up are the main cause of periodontal disease, there are other factors that can contribute to your likelihood of developing some level of periodontal disease.
Genes – Some people are more likely to develop periodontal disease if others in their family have been susceptible to increased plaque and bacteria build-up. However, good oral care can prevent periodontal disease, even for these individuals.
Tobacco Use – If you smoke or use other types of tobacco, you are more likely to develop periodontal disease. Tobacco users tend to collect more tartar on their teeth, increasing their chances of developing periodontal disease. Smoking can also make periodontal disease resistant to treatment.
Crowded Mouth – This can be a big problem for people with crooked teeth, braces, partials or just too many teeth. Plaque can build up around braces, in tight spaces around teeth, and between bridges or other dental fixtures.
Stress – While stress on its own won't cause periodontal disease, it can make it harder to treat. Because your immune system is weakened by stress, infections caused by plaque and bacteria can quickly take hold in your mouth.
Hormones – This is mostly the case for women. Changes in your hormones during pregnancy and menopause can cause changes in your mouth as well. This can contribute to an increased risk for periodontal disease.
Treating Periodontal Disease
If periodontal disease is caught early, it can easily be treated at home with an improved routine of oral care. This includes improvements with brushing and flossing habits, the use of mouth washes and visiting your dentist on a regular basis. More advanced stages of periodontal disease may require deep cleaning that is done by your dentist or dental hygienist. This process is called plaque scaling and planing. This process removes plaque that has built up under the gums, and can take a few appointments to completely clean the teeth. In extreme cases of periodontal disease, you may need to visit a periodontist for a treatment plan which may include tooth extractions and gum and bone grafts.
Periodontal disease isn't something to mess around with. If you notice that your gums are swollen and tend to bleed when you brush, it's time to get to the dentist for a good cleaning and care for developing periodontal disease. If caught and treated early, periodontal disease is completely manageable with at home care.
If you are looking for a dentist in the Shelby Township area who can care for your whole family, HPS Advanced Dental Care is ready to help. To learn more about our family and cosmetic dentistry services at our Shelby Township dental office, call us today at (248) 652-0024 or request a dental appointment.