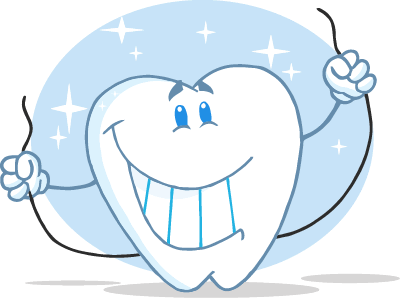 Flossing has been in the news lately. You've probably heard conflicting information about whether it still makes sense to floss on a regular basis, or if dentists like us have been telling you to do something that just doesn't matter. So what is the truth? Do you floss daily or is it just a waste of time? Since the most recent news about flossing says that flossing doesn't improve dental health, we've had a lot of questions from our Shelby Township patients. With all of the confusion, we thought that it was time that we cleared things up, once and for all, about flossing.
What is Flossing?
Let's start with the basics, just in case. Flossing is a method of cleaning plaque, food and bacteria from in between your teeth. Flossing uses a thin piece of coated, synthetic string to scrape this buildup of junk from off of your teeth. This technique is used because even with improvements in toothbrush technology, we still don't have a toothbrush that can reach in between your teeth. Mouthwash can help, but there isn't anything like dental floss for cleaning between your teeth.
What's All the Flossing Fuss About?
In 2016, a news article came out that said that flossing was really a waste of time. In the article, published by the Associated Press, the US Department of Health and Human Services indicated, by omission, that flossing was no longer an essential part of good dental health. To follow up on this omission, the Associated Press' independent research of dental health studies seemed to indicate that flossing had very little impact on overall oral health, and was ineffective for removing plaque. This is where the confusion started.
Does Flossing Really Work?
Ask most dentists to compare the oral health of patients that floss and patients that don't floss, and you will quickly learn that despite what the Associated Press and a limited number of studies say, flossing does impact oral health. Patients who indicate that they do not floss on a regular basis have higher incidents of issues such as gum disease, periodontal disease, and decay between the teeth. These conditions can all lead to more severe issues in the mouth, and are all easily resolved with just a little bit of dental floss, on a daily basis.
So What Does This Mean?
Well, since there is no study that tells you that flossing will hurt your teeth, and the studies referenced by the Associated Press have some significant flaws, your best bet for a healthy mouth, is to keep on flossing. With very few disadvantages to flossing, and antidotal benefits galore, flossing continues to be a helpful part of your daily dental health routine. Flossing does help reduce gum inflammation and helps with reducing bacteria that causes plaque and bad breath. If you want a healthier mouth, and fresh breath, don't stop your flossing routine.
How Often Should You Floss?
Of course, we recommend that you should floss once per day. There is no particular time during the day that is better than others, but if you find that it's hard to be motivated to floss before bed, make it part of your morning routine. If mornings and nights are hard, perhaps it's a great after lunch activity. It doesn't matter when, just make sure you floss, once a day for a healthier mouth.
Searching for a Dentist in Shelby Township, Michigan?
If you are looking for a great family and cosmetic dentist in Shelby Township, you don't have to look far. HPS Advanced Dental Care can provide your family a full range of dental services. Whether you just need a cleaning, or are looking for implants or dentures, we have you covered. To make a dental appointment or to learn more about our practice, call us today at (248) 652-0024.