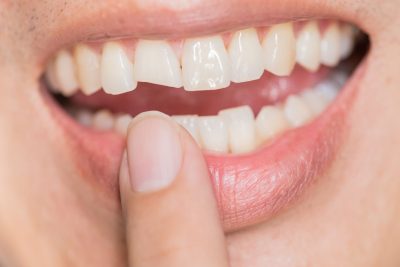 Even though most people don't know much about them, dental fractures are a common problem that currently affects many people across the globe, especially those aged 25 and above. However, it is imperative to note that dental fractures are usually quite difficult to diagnose. Only a qualified dentist can accurately tell whether your dental pain and discomfort are caused by either a dental fracture or a totally different existing problem. Thankfully, once successfully diagnosed, dental fractures can easily be corrected. Today in this post, we want to extensively discuss the various types of dental fractures together with their respective treatment options.
Oblique Supragingival Fracture:
It is important to note that this type of dental fracture affects your gums. It is predominantly caused by excessive pressure on the gums. Bearing in mind that the pain and discomfort caused by this type of dental fracture are usually short-lived, it can be quite tough to detect or even diagnose the condition. Besides pain, oblique Supragingival is also associated with soreness. Only a professional with unrivaled experience can successfully diagnose this particular dental fracture. The treatment usually involves repairing the affected part of the tooth, and your dentist will subsequently place a crown on the impacted tooth to help prevent any future fractures.
Vertical Apical fracture:
Vertical apical dental fractures are arguably the most painful. This is primarily because these types of fractures directly affect the root of your teeth, which in turn, results in a significant amount of pressure on the bone. And it's this pressure that is solely responsible for the amount of pain experienced by vertical apical fracture patients. The treatment option for this type of dental fracture is root canal therapy. With this procedure, your dentist will entirely remove the affected area, and this is usually enough to alleviate the pain and discomfort.
Oblique Root Fracture:
This particular type of dental fracture usually affects your gums as well as bones. And when oblique root fracture affects the areas close to your dental crown, treatment will almost certainly require the removal of the whole tooth. In this case, it's impossible to save the tooth. Dentists usually recommend the removal of the entire tooth because this type of dental fracture results in the bone becoming abscessed, which in turn, leads to unbearable pain.
Oblique Subgingival Fracture:
This type of dental fracture occurs in the area just below your gumline. In this case, the damaged tooth becomes embedded into your tooth socket. This causes a significant amount of pain, which won't subside unless the tooth gets repaired. Even though the oblique Subgingival usually doesn't impact tooth nerves, the treatment involves root canal therapy. And because the fracture is below the gumline, the treatment can be an overwhelming prospect. And this explains why dentists are often forced to remove the whole tooth.
The Bottom line:
As already explained, dental fractures are a common oral problem that not only affects old people, but younger ones as well. And when they do occur, they usually cause lots of pain. Left unattended, dental fractures can potentially become life-threatening. So, if you suspect you might be suffering from dental fractures, it's high time you schedule an appointment with your local dentist. The good news is that all dental fractures are easily treatable, especially when diagnosed early!
If you are looking for a dentist, HPS Advanced Dental Care would love to see you.  Dr. Heather is gladly accepting new patients.
We are located at 4741 24 Mile Rd. Shelby Township, MI 48316, and we can be reached at  (248) 652-0024.  We look forward to meeting you!