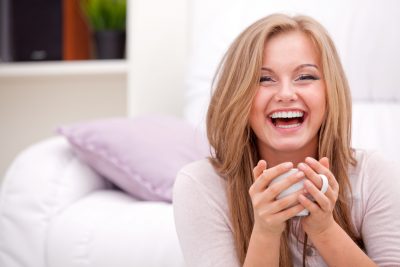 Everyone deserves a beautiful straight smile. However, not everyone needs braces or invisible aligners to get that beautiful straight smile. If you are one of our Shelby Township dental patients that wants a beautiful smile but doesn't need braces to get perfect straight teeth, a perfect option is dental veneers. Dental veneers can give you a beautiful white smile and straight teeth without spending tons of time at the dentist. If you are considering dental veneers as an option for a smile upgrade, here is some helpful information.
What Are Dental Veneers?
Dental veneers are a thin layer of porcelain or resin that is bonded to your natural teeth. Veneers generally only cover the front and small amounts of the side and back of each tooth. Veneers do not provide much structural support for a tooth, so they are generally not used for extensive repairs of a tooth. If you chose to use veneers to correct your smile, you can expect that your dentist will first evaluate your teeth, and help you decide if veneers are the right choice for your smile. Preparing for veneers requires your teeth to be measured and molds to be made, so that the veneers fit your teeth correctly, and give you the smile that you want. Once veneers are made, we will fit them to your teeth, first removing a small amount of your natural tooth, so that there is enough space to place the veneer and give the correct fit.
Why Veneers Instead of Other Options?
There are a variety of reasons why our patients choose dental veneers over other options. First, some patients just don't need the amount of correction that comes from braces and invisible aligners. If you have only one or two teeth that aren't straight, veneers may be a more practical and affordable option. Veneers can correct the slightest misalignment of your teeth, making them a great option for patients that want straight teeth but don't need braces. For some patients that have teeth that are discolored, and whitening treatments haven't worked, veneers are also a great option. It is important to remember however, that veneers do not provide any structural support for your teeth. Like wood veneer on a table or cabinets, they are a "decorative" coating of sorts for your teeth. They are great for fixing minor cosmetic problems, but for more substantial problems, a better solution is a dental crown or dental implant.
Caring for Your Veneers
For most patients that have a good routine of at home dental care to begin with, caring for veneers is a piece of cake. Brushing twice per day, flossing and making regular visits to see us are the key steps for keeping your veneers looking great. There are other things that you do need to keep in mind when caring for your veneers long term. First, they are capable of breaking and cracking, just like your natural teeth. So it's important that you avoid biting and chewing hard foods like ice and hard candies. Next, just like your natural teeth, veneers can stain, so if you want to keep them looking great, avoid foods like red wine, soda and coffee. Finally, if you start to have discomfort with a tooth that has a veneer, don't wait to visit us. You may have an underlying problem or a cavity.
I Want a Beautiful Smile and Want More Information on Dental Veneers!
HPS Advanced Dental Care loves helping Shelby Township patients have beautiful, healthy smiles. Whether you are looking at veneers to make subtle changes to your smile or other cosmetic procedures for a complete smile makeover, we are ready to help. Call us today at (248) 652-0024 to schedule an appointment or to learn more about the services our dental practice in Shelby Twp. provides.