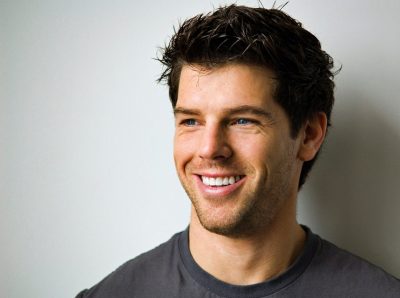 For many of our Shelby Township dental patients, braces and invisible aligners are steps to having a more beautiful smile, and improved self-confidence. Many patients that chose braces or aligners to have a straight beautiful smile do so for the cosmetic and aesthetic reasons, however, many find that there are benefits beyond a straight, beautiful smile that improve their overall health and well-being.
Healthier Gums
This benefit is seen in patients that have crowded teeth as well as teeth that are spaced too far apart. When your gums don't fit around your teeth correctly, they can easily be impacted by bacterial growth. This bacterial growth gets between your gums and teeth causing redness, inflammation and bleeding. None of which are attractive, and most importantly, all are signs of periodontal disease. Periodontal disease can cause serious damage to your gums, teeth and jaw. Straightening your teeth and giving the right amount of room in your mouth for your gums to fit correctly around your teeth is a good way to protect against the damages of periodontal disease.
Easier to Clean Teeth
When your teeth are crowded in your mouth, it is difficult to get them clean by brushing and flossing. Crooked teeth are a perfect place for bacteria to grow and cause cavities and periodontal disease. Straightening your teeth can help make brushing and flossing easier and more effective, keeping plaque and bacteria to a minimum.
Correct Jaw Alignment
Having crooked teeth can cause alignment and functional issues for your jaw. When your jaw is not aligned correctly you can have a variety of problems with your bite, the musculature of your face and tension in your neck and spine. A misaligned jaw can also cause unhealthy wear to your teeth, and discomfort when eating or chewing. Braces and invisible aligners can help bring your jaw and bite in to correct alignment so that your jaw works correctly and you don't have to worry about discomfort or damaging your teeth when you eat or chew.
Improved Self-Confidence
This is a really important reason for many people to consider braces or invisible aligners. If you have suffered from crooked teeth for most of your life, you may not want to smile, or feel embarrassed about how your teeth look when you do smile. Our smile is an important part of who we are, so you should feel confident when you smile. A straight smile can make a shy person come out of their shell, or give you that extra boost of confidence to try for that new job, ask out that long-time crush or finally have a beaming smile in a photograph.
A Healthier Body
Many people don't realize that unhealthy teeth can lead to a host of other health problems. Oral infections and increased bacteria in the mouth have been known to cause serious health problems such as heart disease, stroke, diabetes and pneumonia. Having straight, healthy teeth and a cleaner mouth are important to having an overall healthy body.
I Have Crooked Teeth and Want a Straight Smile – Tell Me More!
It's OK if you want braces or invisible aligners to look better and feel more confident. That is a great reason to start you on the way to a healthier mouth, body and mind. If a simple process like straightening your teeth can lead to so many health benefits, why wouldn't you consider braces or aligners today? HPS Advanced Dental Care is the perfect place to care for your whole mouth. With services ranging from regular cleaning to cosmetic procedures including braces and invisible aligners, we are the perfect dental office for your whole family. To schedule an appointment or learn more about our Shelby Township dental office, please call us today at (248) 652-0024.