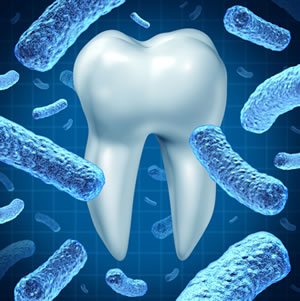 Periodontal disease is one of the quickest growing oral health concerns for Shelby Township patients. With more than 80% of adults in the United States suffering from some level of periodontal disease, it's become increasingly important to find alternative and effective ways of treating bacterial growth and infection in the mouth and gums. Making this even more critical is the increasing understanding of the links between periodontal disease with other more serious conditions including heart disease, kidney failure, diabetes, Alzheimer's and stroke. The next level of care for periodontal disease is Laser Bacterial Reduction (LBR) therapy. A gentler, yet effective way of reducing bacterial infections and periodontal disease, LBR is becoming a standard procedure for treating periodontal disease.
What is Laser Bacterial Reduction Therapy?
Laser Bacterial Reduction therapy is a noninvasive method of killing bacteria in the mouth. This procedure is done during a routine cleaning visit. LBR is accomplished using a non-cutting dental laser. The high intensity light is focused around the teeth, especially at the gum line, and is used to kill harmful bacteria in the mouth. This treatment is highly effective for ridding difficult to treat bacteria from the mouth.
What Are the Benefits of LBR?
Almost all patients, even those that are not suffering from periodontal disease can benefit from LBR. This treatment is highly effective at eliminating bacteria in the mouth. Even healthy mouths will experience some bleeding and irritation from a normal cleaning, so using LBR as a routine part of a regular dental visit can protect the mouth from potential infections. LBR is also a great companion to plaque scaling and planing. Removing plaque from the teeth is a great place to start caring for periodontal disease, but combine that with intense, focused bacteria reduction, and the effectiveness of treatments for periodontal disease increases, and has a better chance of lasting longer. Over the long-term, the use of LBR in dental cleanings and as a supplement to other treatments for periodontal disease, can improve the overall health of teeth and gums and give the immune system a boost.
Is LBR Just for Periodontal Disease?
No. Laser therapy can be used for a variety of other dental treatments. This may include treatments for cold sores and herpetic lesions, providing sensitivity relief for the root surfaces of your teeth and can be used at regular hygiene appointments to reduce bacteria and support healthy gums.
The Cost of LBR
Because LBR is a relatively simple procedure, and takes little time or effort, the labor cost of providing LBR to patients is low. However, the price of the equipment necessary to provide LBR is relatively high. Combine these two factors with the fact that most insurance companies still do not recognize LBR as a standard treatment for periodontal disease or as a supplement to general hygiene cleanings, and you are likely to pay a fair amount of money out of pocket to enjoy the benefits of LBR. As more and more patients request this procedure as part of their regular dental visits and as it becomes more common as a treatment for periodontal disease, the out of pocket cost will likely decrease, and insurance companies will be more likely to cover the procedure.
Laser Bacterial Reduction is a great way to improve your overall oral health and make resolving issues like periodontal disease more comfortable and effective. HPS Advanced Dental Care can provide you with an amazing cleaning, combined with the benefits of LBR, for a beautiful and healthy smile.
For More Information on Laser Bacterial Reduction Therapy in Shelby Twp., MI
To schedule a dental appointment for a cleaning or to learn more about how Laser Bacterial Reduction Therapy can benefit your dental health, call our Shelby Township dental office today at (248) 652-0024.