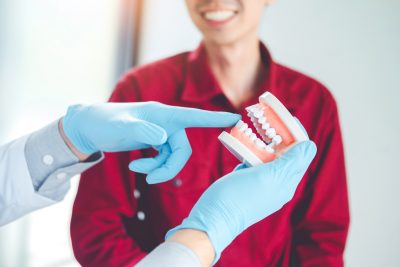 Over the last few years, the popularity of dentures has grown immensely. More and more people are opting for dentures, primarily because dentures are comfortable and look natural. However, one must always try their best to never be in a situation where they need dentures. This can be done by regularly visiting your dentist. Here are a few early signs that show there is something wrong with your teeth and signs you shouldn't ignore.
Early Signs That Say You Might Need Dentures in Future
Here are a few signs that say you might need dentures in the future.
If you are experiencing a toothache that simply won't go away, chances are you are dealing with a decayed tooth that has also damaged the nerve underneath the tooth. See your dentist immediately in this case,
If your gums have become red and swollen, chances are you have developed periodontal or gum disease. While it's quite easy to treat gum disease while it is still in its early stage, treatment becomes quite difficult as the disease advances.
If your teeth have developed gaps between them or if they have become loose, see your dentist for if the gap between your teeth increases, you may be compelled to use dentures.
If you find it hard to chew hard foods or if you experience digestive issues frequently, chances are you have suffered major tooth damage without realizing it. In such a case, it's best to see a dentist as soon as possible.
If you have missing teeth, set up an appointment with your dentist. In this case, the need for dentures is absolute and cannot be ignored.
If you are experiencing any of the signs mentioned above, see your dentist at the earliest. Your dentist will do what they can to protect your teeth. However, if the damage is beyond repair, they will recommend you to use dentures. If they do, the first thing you must know is that dentures are of three types.
Types of Dentures
Partial Dentures
Partial dentures are used to replace decayed or damaged teeth. They take the help of surrounding healthy teeth as well metal clasps to stay in their place. Partial dentures are your best option when you have only one or two decayed teeth — they also keep other healthy teeth from moving, thereby minimizing the need for full dentures in the future.
Immediate Dentures
Dentures resemble natural teeth and hence, more and more people are opting for them. However, placing dentures is a time-consuming process. Before placing dentures, your dentist will remove all your teeth and leave your gums to heal. The healing process takes two to three months. Thus, one cannot go about with no teeth during this time. It is, thus, that the need for immediate dentures arises.
Full or Conventional Dentures
Conventional or full dentures are for people who have lost most of their teeth. Your dentist will remove all your teeth and will place full or conventional dentures only after your gums have completely healed. This usually takes anywhere between two to three months. Conventional dentures do not require adhesives to work — they have integrated support, which makes them look like natural teeth. The best part is they also feel like natural teeth.
Conclusion
If you do not want to go for dentures, know that you can also opt for dental implants. A dental implant is a perfect answer to the problem of one or two missing teeth. However, implants are more expensive than dentures. Further, they do not work for everyone. So, talk to your dentist and see what options do you have.
f you are looking for a dentist, HPS Advanced Dental Care would love to see you.  Dr. Heather is gladly accepting new patients.
We are located at 4741 24 Mile Rd. Shelby Township, MI 48316, and we can be reached at  (248) 652-0024.  We look forward to meeting you!