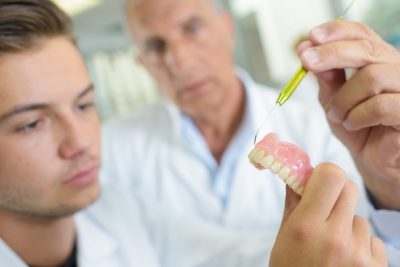 Until a few years ago, dentists used false teeth all the time to solve the problem of missing teeth. Usually made from acrylic, nylon, or metal, these types of teeth were quite popular too. However, over the recent past, more and more people have started opting for dentures instead of false teeth for dentures have many benefits over false teeth. To start with, compared to false teeth, dentures make it far easier to enjoy food. They also look better than false teeth and make a person's face look young, thereby playing a great role in boosting a person's confidence. Moreover, they protect the remaining teeth in the mouth. In this article, we get into the details of this topic and tell you everything there is to know about dentures.
Before Anything Else, Talk to a Denture Specialist
People who do not know much about dentures feel quite nervous about getting them. They presume that dentures will make them look old and keep them from truly enjoying the taste of good food. If you have such fears, you are not the only one — many people have these fears. However, we recommend talking to your dentist and discussing these fears with them. Your dentist will be able to guide you well, clear your doubts, and answer all questions you may have about dentures. If you can find a denture specialist, even better.
Dentures are of two types: fixed and removable. Fixed, partial, or full dentures are made from gum-colored plastic resin. These dentures are placed on top of the alveolar ridge, where they maintain their position by creating a strong suctioning effect. Fixed dentures are fixed using dental implants, which a dentist fixes into the patient's jaw bone. With time, the implants fuse permanently with the jaw bone, creating ample space and support for fixed dentures. Getting fixed dentures usually involves minor surgery, and therefore, only someone with years of experience must be trusted. The dentist placing a fixed or partial denture must make it to a point to make sure that the denture fits properly.
Removable dentures, on the other hand, can be removed at night. They must also be cleaned each night. Though removable dentures are far cheaper than fixed dentures, there are recurring costs involved that one must be aware of before getting removable dentures. More importantly, fixed dentures feel far more natural than partial dentures. Unfortunately, only people with very strong bones can get fixed dentures.
Here's What Else You Need to Know
It does not matter whether you decide to go for immediate or permanent dentures, your dentist will first remove the remaining teeth. Thereafter, they will give the gums some time to heal. While your gums are healing, you can choose to wear immediate dentures. Once the gums have healed completely, your dentist will give you the option of choosing between immediate or permanent dentures.
The Final Word
Getting dentures is an important decision. Therefore, take your time before deciding the type of dentures you want. More importantly, make sure to find the right dentist to do the job.
If you are looking for a dentist, HPS Advanced Dental Care would love to see you.  Dr. Heather is gladly accepting new patients.
We are located at 4741 24 Mile Rd. Shelby Township, MI 48316, and we can be reached at  (248) 652-0024.  We look forward to meeting you!