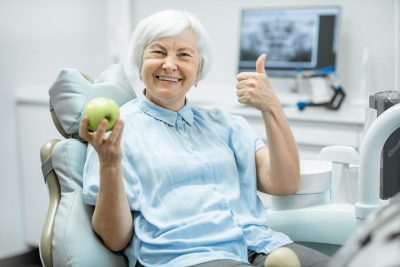 Other than for appearance, why else should I replace a missing tooth?
A missing tooth can strain nearby teeth leading to jaw misalignment. The gap can also trap food remains, thereby increasing the chances of gum disease and tooth decay. That's why you need any missing teeth replaced.
What are the ways of replacing missing teeth?
There are three ways in which missing teeth can be replaced. The first is through a partial denture, whereby you get a removable false tooth. Another method is through a fixed bridge. A bridge is preferred when several teeth are replaced or when the missing teeth are on one side of the mouth. The other method is dental implants, whereby an artificial root is drilled into the jaw and a crown placed on top of it.
What is a partial denture?
A partial denture is a plate with a false tooth made of plastic or a mixture of metal and plastic. The dentures have clasps or clips to help secure the denture into your mouth.
Plastic partial denture or metallic partial denture, which is better?
Plastic partial dentures are cheaper than their metallic counterparts. In addition, they may damage the teeth that support them if not designed carefully.
On the other hand, partial metal dentures are made from an alloy of chromium and cobalt. They are lighter on your teeth and look more natural than plastic dentures. On the downside, they are pricier.
How do I know the best type for me?
Your dentist will advise you on the best option after analyzing the condition of your remaining teeth. Metal-based partial dentures are the better option in many aspects.
Can a bridge get fitted immediately after tooth removal?
No. Your gum takes time to heal properly after a tooth extraction, meaning that you'll have to wear a temporary denture before the bridge is fitted.
How do I care for my dentures?
Dentures are delicate, meaning you should care for them. Place them in a folded towel and always clean them over a water bowl. You should brush them before storing them to remove any food remains. Your dentist should give you a non-abrasive denture cleaner to clean your dentures. Never use toothpaste. Brush it thoroughly, including the surface that fits against your gums, but be careful not to scrub it too hard as this may scratch the surface.
Also, always soak your dentures in a denture-cleaning solution when you are not using them to remove any stubborn stains and disinfect them.
Don't wear your dentures overnight unless advised by your dentist or don't have an option.
If you notice any buildup of scale or stains on your dentures, take them to a dentist for professional cleaning.
Should I remove my denture at night?
Your dental team may recommend removing dentures at night to give your jaws a chance to rest. If you take them out, leave them in water to prevent cracking.
Is there an alternative to partial denture?
The best alternative is a dental implant or fixed bridge. A dental bridge involved putting crowns on the nearby teeth and placing a false tooth in the space to join the two. The bridge cannot be removed.
Another option is an adhesive bridge whereby wings' are bonded to the back of nearby teeth.
Who is qualified to have a bridge to replace missing teeth?
Only people with strong teeth and bone support can have a bridge. Your dental team will advise you if you can have a bridge to replace missing teeth.
How much will I pay for a bridge?
The cost depends on the type and size of the bridge you need. Consult your dental team and have them write down the estimate and treatment plan before starting. Although a bridge is expensive, they last many years.
How do I take care of my bridge?
Clean it every day to keep gum diseases and bad breath at bay.
Clean the false tooth every day using a special floss given to you by your dentist.
Can I have teeth drilled to the jawbone?
Yes, through implants. Implants attach to the jawbone where there's a missing tooth. No crowns will link to other teeth.
Call us for more information about replacing missing teeth. Our dental team will be willing to help.
If you are looking for a dentist, HPS Advanced Dental Care would love to see you.  Dr. Heather is gladly accepting new patients.
We are located at 4741 24 Mile Rd. Shelby Township, MI 48316, and we can be reached at  (248) 652-0024.  We look forward to meeting you!