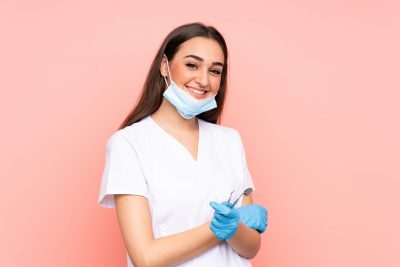 A regular trip to the dental office for most people usually includes the usual routine. It begins with an assessment of your pearly whites, and hygiene treatment, and typically ends with a discussion about your general dental care. But did you know that a trip to your dentist's office may also include guidance as well as advice regarding numerous different aspects of your oral health, overall health as well as well-being? And this is where holistic dentistry comes in. So, continue your reading and get to learn more about holistic dentistry.
So, what is holistic dentistry?
Also known as wellness dentistry, holistic dentistry refers to an integrated approach to taking care of your teeth. This simply implies that it does not only take into consideration your overall oral health, but also both the well-being and health of body and mind. With this unique type of dentistry, the major focus is on making sure that your mouth remains healthy, the oral treatments involved are adequately researched and safe, and that the treatment benefits not only your dental health but your entire system.
How does wellness or holistic dentistry work?
With holistic dentistry, there is a general belief among dentists that there are better ways to enhance the overall health of your mouth. Of course, these ways are not only more natural but are scientifically proven as well. For most patients, it means the involvement of conventional dental treatment methods with natural and less intrusive techniques of taking care of your mouth. What's more, wellness dentistry involves the use of dental and health products that are free from heavy metals, and allergens and are equally eco-friendly.
So, what should you expect from wellness dentistry treatment?
One major aspect associated with holistic dentistry is a gentle touch. And while our dental professionals will still clean your teeth the same, the cleaning methods will be relatively soft and equally easier on both your mouth and mind. This implies that your cleaning experience will be more comfortable and relaxing, bearing in mind that our dental experts won't either yank, poke or even scrape at your teeth in the conventional, unfriendly manner.
Our proven dental experts know and understand that there are numerous better ways to clean your pearly whites. If you are scheduled to have other dental procedures such as dental fillings, you will never find any mercury amalgam fillings at any of our dental offices. If you didn't know, mercury is not only harmful to human health, but to the environment as well. Other things that we often try to avoid as much as we can include products that feature latex such as latex gloves. A significant number of patients often don't know they have a latex allergy, so it's our obligation to protect them against this through our holistic dentistry approach.
It's all about you!
It is worth mentioning that wellness dentistry is not a standardized approach. This is because every patient has different treatment needs. Your reaction to medications or even your experience with a particular treatment procedure is entirely different from the other patient. Wellness dentistry takes a personalized approach to dentistry, taking into consideration each individual's psychology, physiology as well as needs. What's more, wellness dentistry also involves dental practices that are backed by science. And this simply implies that you'll be getting the most effective and comfortable dental experience.
Wellness dentistry is an enhanced way of taking care of your teeth. It focuses on your entire body, giving you a highly personalized oral experience that not only leaves your mouth in the best shapes possible but leaves you stress-free as well.
If you are currently looking for the best wellness dentist in Shelby, Twp, MI, look no further than the HPS Advanced Dental Care experts. With unrivaled experiences in the industry, you can always rely on us for a relatively soft and gentler approach to solving your dental problems.
If you are looking for a dentist, HPS Advanced Dental Care would love to see you.  Dr. Heather is gladly accepting new patients.
We are located at 4741 24 Mile Rd. Shelby Township, MI 48316, and we can be reached at  (248) 652-0024.  We look forward to meeting you!